2010 Poster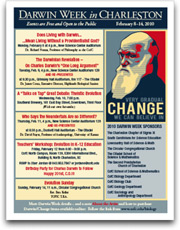 PDFs Available
Black+White Color
Please download & distribute.

2010 Event Venues

The New Science Center
College of Charleston
The recently opened science building is at the intersection of Coming and Calhoun Streets, on the north side of Calhoun, across from the College library.


Grimsley & Duckett Halls – The Citadel
The Citadel's Grimsley Hall is located at the north end of Summerall Field, on Jenkins Avenue. Duckett Hall is at the corner of Lee Avenue (the continuation of Moultrie Street) and Jones Avenue.
Maps of the CofC Campus and The Citadel are available online.


Southend Brewery
Southend Brewery is located at 161 East Bay Street, Downtown.

Circular
Congregational Church
Circular Congregational Church is located at 150 Meeting Street.


Darwin Links Worldwide
DarwinDay.org
From the Institute for Humanist Studies
Darwin200.org
London Natural History Museum
Darwinweek.com
University of Northern Iowa
Year of Darwin
Case Western Reserve
Darwin & Darwinism
Baruch College, New York
City University
Darwin 200
Nature Magazine Special
The Darwin Legend.org
Many articles & links here
Darwin-Online.org.uk
Complete Works, and Worldwide Links
Darwin Days
Cornell University & the
Paleontological Research Institution, Ithica, NY
Darwin 200 Ireland
Events in Ireland
Darwin 200 Torquay/Plymouth
S.W. U.K. Events
Darwin's Reach
Hofstra University Events