FWGNA > Species Accounts > Planorbidae > Biomphalaria havanensis
Biomphalaria havanensis
(Pfeiffer 1839)

"Biomphalaria obstructa"
> Habitat & Distribution
The first published report of Biomphalaria in a US Atlantic drainage was that of Dillon & Dutra-Clarke (1992) from a public park in Charleston, SC. There is also an older (1960) record from "McIntosh Co, GA" in the Georgia Museum of Natural History that we have been unable to confirm. In 2015 we discovered a third Biomphalaria population on Hilton Head Island (Beaufort Co, SC), and in 2023 a fourth population at at park in Savannah, GA. See my essay of 16Dec15 from the link below for more.

M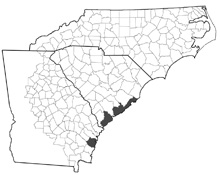 alek (1985) gave the range of populations he identified as Biomphalaria obstructa as Texas, Louisiana, Florida, Mexico, Puerto Rico, and Cuba, adding that "It has also been reported from California, but was probably introduced there." It seems quite likely to us that all the Biomphalaria populations in our study area result from artificial introductions as well. The ponds and ditches in Charleston, Hilton Head, and Savannah are largely artificial, and the areas heavily disturbed.

The Charleston Biomphalaria population has historically been closely associated with floating vegetation. In years when park managers have allowed the vegetation to spread, the Biomphalaria population has expanded. The park management has treated the pond with herbicides rather regularly in the last decade or so, and the Biomphalaria population has suffered as a consequence. Biomphalaria is pseudo-rare in our study area, FWGNA incidence rank I-2p.
> Ecology & Life History
As the host of schistosomiasis in the New World, snails of the genus Biomphalaria have been targeted for extensive research (Malek 1958, Dillon 2000: 61-66). The Charleston population seems to display the annual, semelparous life cycle A typical of temperate pulmonate populations.

Biomphalaria populations inhabiting the United States (variously identified as B. obstructa or B. havanensis) seem to be refractory to infection by the medically important S. mansoni (Malek 1967, Sullivan & Hu 1996), although populations identified as B. havanensis sampled from Cuba may be susceptible (Michelson 1976). I myself have not observed any parasitism in the Charleston population.
> Taxonomy & Systematics
Back in the early 1990s Dr. Emile Malek confirmed that our Charleston population was specifically identical to populations widespread in Florida, Texas, and Louisiana. But for years there was no consensus regarding the identity of any Biomphalaria population anywhere in the USA - some authorities referring them all to B. havanensis (Pfeiffer 1839), other authorities preferring B. obstructa (Morelet 1849). The underlying problem has been a general uncertainty regarding the identity of the havanensis type population in Cuba (Paraense & Deslandes 1958, Yong et al. 1997). The more recent genetic and morphological studies of Yong et al. (2001) and DeJong et al. (2001) have, however, firmed up the identity of B. havanensis in Cuba and convincingly demonstrated a match of our U.S. populations to it.
The taxonomic history of the genus to which havanensis has been assigned is a long and complicated one, including the nomina Taphius, Australorbis, and Tropicorbis. But the classification of the Planorbidae proposed by the tag team of Baker (1945) and Hubendick (1955) remains, after 50 years, the basis for our understanding of this large and diverse family of pulmonates worldwide. See my essay of 11Apr08 (available below) for more.
> Supplementary Resources [PDF]
> Essays
See my post to the FWGNA blog of 11Apr08 for a review of the Classification of the Planorbidae.
Or view the (Hubendick 1955) classification of North American planorbids in a tabular format [here].
I reported discovery of a new South Carolina population of

B. havanensis

in my blog post of 16Dec15, The Many Invasions of Hilton Head. That post also contains habitat notes and photos.
> References
Baker, F. C. (1945) The Molluscan Family Planorbidae. Urbana: University of Illinois Press.
Baker, H. B. (1946) Index to F.C. Baker's "The Molluscan Family Planorbidae." Nautilus, 59, 127-41.
Burch, J. B. (1989) North American Freshwater Snails. Malacological Publications, Hamburg, MI. 365 pp.
DeJong, R. J. and 28 others (2001) Evolutionary relationships and biogeography of Biomphalaria (Gastropoda: Planorbidae) with implications regarding its role as host of the human bloodfluke, Schistosoma mansoni. Molecular Biology and Evolution 18: 2225-2239.
Dillon, R. T., Jr. (2000) The Ecology of Freshwater Molluscs. Cambridge, Cambridge University Press. 509 pp.
Dillon, R. T., Jr. & A. Dutra-Clarke (1992) Biomphalaria in South Carolina. Malacological Review, 25: 129-130.
Hubendick, B. (1955) Phylogeny in the Planorbidae. Trans. Zool. Soc. London 28: 453-542.
Kuntz, R.E., Gremillion, D.H., Geckler, R.W. & Marraro, R.V. ( 1978) Different species and geographic strains of Biomphalaria as hosts for Schistosoma mansoni (Saudi Arabia Strain). J. Parasitol., 64: 940-941.
Malek, E. (1958) Factors conditioning the habitat of bilharziasis intermediate hosts of the family Planorbidae. Bull. W.H.O., 18: 785-818.
Malek, E. (1967) Susceptibility of tropicorbid snails from Louisiana to infection with Schistosoma mansoni. Am. J. Trop. Med. Hyg., 16: 715-717.
Malek, E. (1969) Studies on "Tropicorbid" snails (Biomphalaria: Planorbidae) from the Caribbean and Gulf of Mexico areas, including the southern United States. Malacologia, 7: 183-209.
Malek, E. (1985) Snail hosts of schistosomiasis and other snail-transmitted diseases in tropical America: A manual. Washington, D.C., Pan American Health Organization. 325 pp.
Michelson, E. (1976) A potential intermediate host of Schistosoma mansoni from Haiti. J. Parasitol., 62: 648-649.
Paraense, W. L. & N. Deslandes (1958) Observations on Taphius havanensis (Pulmonata: Planorbidae). Revista Brasileira de Biologia 18: 87 - 91.
Sullivan, J.T. & Hu, P.C. (1996) Fate of Schistosoma mansoni in Biomphalaria obstructa. J. Parasitol. 82: 743-747.
Yong, M., Gutierrez, A., Perera G., Durand P. & Pointier J-P. (2001) The Biomphalaria havanensis complex (Gastropoda: Planorbidae) in Cuba: A morphological and genetic study. Journal of Molluscan Studies 67: 103 - 111.
Yong, M, Pointier J-P. & Perera, G. (1997) The type locality of Biomphalaria havanensis (Pfeiffer 1839). Malacological Review 30: 115-117.