Don't Miss —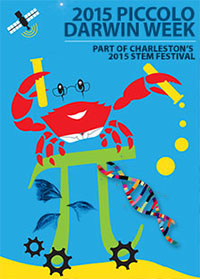 2015 Event Venues
The School of Science and Math Auditorium,
College of Charleston
Located at the intersection of Coming and Calhoun Streets, across from the College Library. The NSCB (New Science Center Building) Auditorium is Room 129.

Grimsley Hall, The Citadel
The Citadel's Grimsley Hall is located at the north end of Summerall Field, on Jenkins Avenue.

Maps of the CofC Campus, and The Citadel are available online.

Circular
Congregational Church
Circular Congregational Church is located at 150 Meeting Street.
First (Scots) Presbyterian Church
First (Scots) Presbyterian Church is located at 53 Meeting Street. Enter the parking lot from King Street. The fellowship hall is on the King Street side.

PAST YEARS'
Darwin Week In Charleston, Since 2001
DarwinDay.org
The International Darwn Day Foundation, celebrating Science and Humanity.
Evolution Weekend
An opening for serious discussion on the relationship between religion and science, from The Clergy Letter Project.