Don't Miss —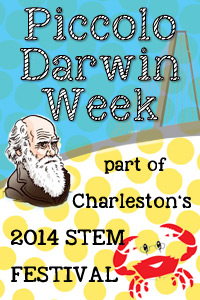 2014 Event Venues
The School of Science and Math Auditorium,
College of Charleston
Located at the intersection of Coming and Calhoun Streets, across from the College Library. The NSCB (New Science Center Building) Auditorium is Room 129.

Grimsley Hall, The Citadel
The Citadel's Grimsley Hall is located at the north end of Summerall Field, on Jenkins Avenue.


Maps of the CofC Campus, and The Citadel are available online.

Circular
Congregational Church
Circular Congregational Church is located at 150 Meeting Street.
The Church of the Holy Communion
The Church of the Holy Communion is located at 218 Ashley Avenue.

PAST YEARS'
Darwin Week In Charleston, Since 2001